MaGE
Description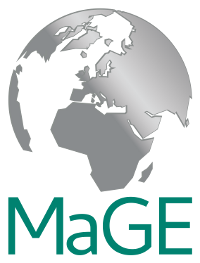 MaGE (Macroeconometrics of the Global Economy) est un modèle macroéconométrique de l'économie mondiale, élaboré pour projeter les grands bouleversements économiques de notre siècle.

Notre modèle est basé sur une fonction de production à trois facteurs (travail, capital et énergie) et à deux progrès technologiques, et propose différents scénarios de croissance pour 167 pays à l'horizon 2050, dont le principal est disponible dans la base de données EconMap.

Notre modèle est basé sur les projections de l'Organisation des Nations Unies et de l'Organisation Internationale du Travail, ainsi que sur des estimations économétriques (i) de l'accumulation du capital, (ii) de taux d'épargne, (iii) de la relation entre capital et investissement, (iv) de l'éducation, (v) de la participation des femmes au marché du travail, et (vi) du progrès technique (productivité globale des facteurs et productivité spécifique à l'utilisation de l'énergie).
Référence à citer :
> Fouré, J., Bénassy-Quéré, A., & Fontagné, L. (2012),
The Great Shift: Macroeconomic Projections for the World Economy at the 2050 Horizon CEPII Working paper 2012-03.
> Fouré, J., Bénassy-Quéré, A., & Fontagné, L. (2013), Modelling the world economy at the 2050 horizon, Economics of Transition 21 (4), p.p. 617-654.
Responsable & contact :
Erica Perego et Gianluca Santoni, mage

cepii.fr
Licence :
MaGE model is licensed under the Creative Commons Attribution - Non Commercial 3.0 Unported License.


Méthodologie
>>>
Our study provides four novelties.

First, we account for energy constraints by including its consumption in the production function and by taking account of rents accruing to oil exporting countries.

Second, we estimate a non-unitary relationship between savings and investment, departing from assumptions of either a closed economy or full capital mobility.

Third, we model female participation rates consistently with education catch-up.

Finally, we disentangle real gross domestic product (GDP) growth rates from relative price effects through a consistent Balassa-Samuelson effect.
Archives
>>>
| | | |
| --- | --- | --- |
| Release | Date | Description |
| 2.4 | January 2016 | Introducing SSP scenarios. Updated energy price projections. Introducing smoothing of non-annual projections. |
| 2.3 | October 2014 | 20 new countries available. Updated source data. Revised methodology on energy productivity. Several bug corrections. |
| 2.2 | September 2013 | Updated parametrization (in line with published article) and new scenario capabilities (price of investment, skills of migrants). |
| 2.1 | September 2012 | First public release of MaGE source code |